NBM Africa Donates Borehole To Delta Community
Source: Politicsgovernance.com
The Neo Black Movement of Africa, NBM, Worldwide, Effurun chapter, Delta Zone, has constructed and donated water boreholes to Ohorhe 1 community, Uvwie Local Government Area of the state.
The donated water borehole project to Ohorhe 1 Community is one of the projects that NBM has embarked upon in and across the state.
Commissioning the water project at Orhorhe 1, the representative of the zone and national body Prince Ochuko Oyoroko(JP) said, "With the power bestowed on me to represent the National Body and Zone I hear-by present this water borehole to this community to the glory of God".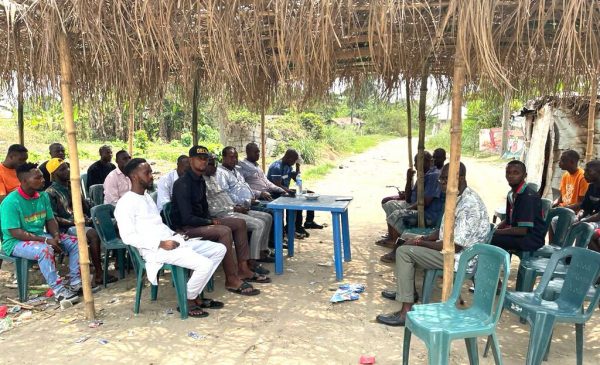 According to him, "As part of our Social Corporate Responsibility as an Organization, During the Flood disaster that ravaged various parts of the Country, NBM of Africa stood to be counted as we moved from state to state giving out palliatives to flood victims.
"This particular humanitarian service by the Effurun chapter under the Delta zone is one amongst others being carried out yearly by Warri, Udu, Warri Central, and Agbarho chapters all under the Delta zone and I am here today to join them to commission this laudable project."
The Coordinator of Effurun NBM, chapter, Engr. Eddyson Omerhi said, "Water is life and we have brought life to the community, they are happy because this water project is dear to their hearts and I am glad to be part of this project.
In his part, the Senior Ughuvwie of Ohorhe 1 community, Pa Lucky Imiruaye said, "I want to express our profound gratitude to this organization for this kind gesture, Water is a friend of everybody, water does not have an enemy.
"This water that you brought for us today, may we enjoy it and prosperity be with you".
Also speaking, the DC Secretary of Ohorhe 1 community, Mr. Wellington Newton Agbofodo, said "We the community youths and the people appreciate this water borehole project, we appreciate NBM as this water will go a long way in satisfying the thirst of the people".
Other elated residents who spoke thanked God and also thank NBM for bringing water to the community. He who gives water has given life; saying they are happy that may God bless NBM.